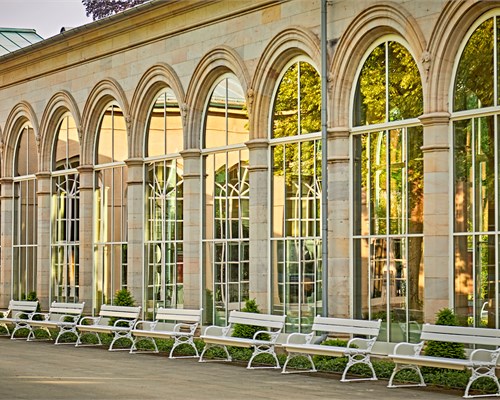 The filmlocation-bayern database is a free service to support productions in their search for film locations in Bavaria. From castles, guesthouses and public buildings, to fascinating natural backdrops to abandoned industrial sites, you can search here specifically and easily by keywords, locations, topics…
You will find contact persons to the locations in the detailed information of the respective motifs.
This database is constantly growing and updated. In addition, professional location scouts and agencies are also available to support you in your search for motifs.
You can find further information about shooting in Bavaria and contact persons in the regions here: Filming in Bavaria
Do you have any further questions about the motif database? We have compiled answers for you in our FAQs
Gladly we add new motifs to our database at any time - more information and survey forms can be found here.
This database is a service of the Film Commission Bayern and the Bayern Tourismus Marketing GmbH financed by the location initiative FILMkulisse Bayern.
The Film Commission Bayern is the first information and contact point for national and international production companies and acts as an interface and moderator for the production industry and the licensing authorities.
The Film Commission takes care of optimal shooting conditions and in 2014 launched the location initiative FILMkulisse Bayern, which aims to open up all regions of Bavaria for filming.
Besides this the Film Commission Bayern offers the following services to filmmakers:
Bavaria-wide support for motif search, filming permits, accommodation and logistical services
Research of motif proposals according to script specifications for project and initial acquisition
Networking with contacts in the filming regions, co-production partners, service providers
Organization and execution of individual location tours: Here you benefit from the direct contact to regional decision makers and the Bavaria-wide network of the Film Commission / Filmkulisse Bayern.
Workshops and round-table events to network the film & tourism industries
Further information on the work of the Film Commission Bayern:
www.film-commission-bayern.de
Filmkulisse Bayern is a joint project of BAYERN TOURISMUS Marketing GmbH and the Film Commission Bayern to network the film and tourism industry in Bavaria. The location initiative was launched in 2014 under the patronage of actress and producer Veronika Ferres.
The primary goal is to establish a network that best combines the skills and opportunities of both sectors in order to strengthen Bavaria as a film production location and tourist destination.
Service of FILMkulisse Bayern:
We support filmmakers Bavaria-wide in all phases of production:
motif search, filming permits, accommodation and other logistical services
Online database with possible (public) locations: www.filmlocations-bayern.de
Organization of location tours
Inspiration trips e.g. for scriptwriters and producers
Contacts to people and stories
Marketing opportunities for film distributors
Our Service for (possible) film locations or filming regions:
Free presentation option on the motif database www.filmlocations-bayern.de
Free presentation of film tourism offers at: www.bayern.by
Assistance, advice, contact networking
Basic-Workshops
B2B Newsletter on current topics, motif searches and current productions
Through regular workshops in all regions of Bavaria, the network is constantly being expanded and the film-relevant infrastructure improved. Once a year the location initiative Filmkulisse Bayern awards an award for the "
Film location of the year
". The prize is awarded to filming locations for good infrastructure and special willingness to cooperate with film productions.
The filmlocations-bayern.de database is a service within the framework of this location initiative.